Condt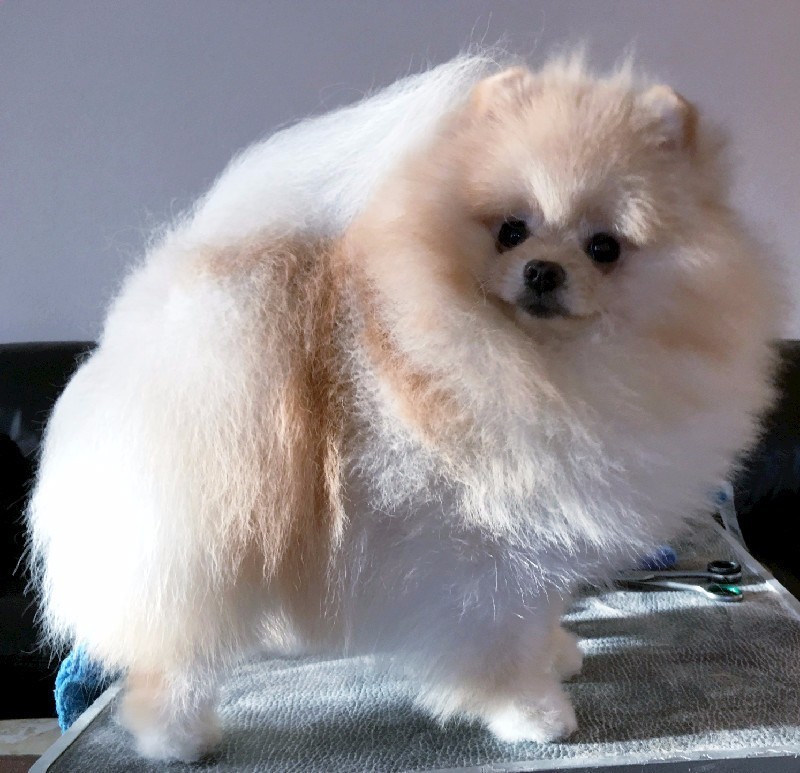 Keeping your Dogs Coat in Show Condition
By Laura
Based on our background with the Pomeranian breed, grooming and showing our Pomeranian's, we found that using these products worked better for us on our Pomeranian's than some of the other products available for dogs that we have tried.
We use Coat Handler Clarifying Shampoo and Coat Handler All-Purpose Coat Conditioner on all our Pomeranian's when we bathe them, as the product breaks through the buildup of oil, dirt or show products in the coat. The product is easy to rinse out. Its not heavy scent, so for those who prefer a scented shampoo you may not want to use this product. I like this product, as it very important that the product leaves no residue when rinsed it out. With this product, their coats are clean and they smell good afterwards.
For those Poms that that have dry coats that break easily, or for daily brushing follow the directions for the All-Purpose Coat Conditioner. This is a good product to mix in a spray bottle with water for misting the coat before brushing out. Another product that I like is Cindra Reconstructor. This product works very well when a coarse double coat or wire coat coat needs extra TLC.

If you have a Pomeranian with pyoderma, seborrheic dermatitis and follicular plugging, apply Sulfa OxyDex Shampoo as directed. This product contains sodium lactate, a natural moisturizing factor to promote hydration of the skin and coat.
For the light colored Pomeranian's, such as the orange, creams and white Poms we found two products that work really well in removing urine stains, grass stains and discolorations. These two products were White on White shampoo made by Chris Christensen and Ice on Ice. When we show our Pomeranian's, we use these products and they really do a nice job.
I have tried Bio-groom stain free hypo-allergenic under eye stain cover cream on our cream poms with out much success. My favorite for removing heavy staining is mixing cornstarch and Hydro peroxide to remove stains under the eyes. Using the mix a couple of days prior to a show will reduce the stain greatly. However, be extremely careful not to get any product in the dogs eyes. This would not make your dog happy. For everyday maintenance take a cotton ball with Optrex Eye Drops and gently wipe under the eye. This will remove the stain as the product contains Borac and Boric Acid. With continuous use it can reduce the staining. It much safer alternative as it is an eye drop.
There is also the product called Show off that is good for show days for spot cleaning that works great when a quick cleaning is needed when there isn't access to water for bathing.
For scissoring I will use White Ice Chalk on light Dogs mixed with cornstarch and pack the legs and feet to trim for the desired cat paw look prior to a show. The nails should be short enough to get the desired look. I apply Colestral Chalk Helper and add the chalk mixture, by packing into the leg and paw and trim. Shampoo out once the desired look is achieved. Just be sure to remove the product before entering the show ring.
I have also used Texturizing shampoos like Cindra Texturizing Shampoo on the coarse-coated breeds like the Pomeranian, but my favorite is the Chris Christensen line for prepping the coat for scissoring and using when showing. I purchase these products from Amazon but they can be purchased from the show dog store, Spectrum One Coarse and Rough Coat Shampoo, Spectrum One Course Rough Coat Substance Conditioner and Spectrum Conditioner. These products work very well when used together as directed and have a smell pleasant. These are good to use when you have a Pomeranian that is starting to blow their coat and needs a little help with the undercoat.
When preparing the coat for bathing line brush the coat in 1 inch sections to separate the hairs using a 'Oval Pin Brush, 27mm". Going to the skin will prep the coat for a better finish when preparing to scissor the coat. To remove the undercoat that is shedding, we use a 'V-rake with Rotating Pins' since it makes it much easier to take out the old dead hair rather than trying to wash it out. Removing the old dead hair from the healthy coat makes combing out easier after the bath. A must have in my grooming tools is the double-sided flexible soft and medium pin slicker brush for getting through the coat. Its inexpensive and works great.
Other grooming products that I have found helpful is Chris Christensen All coarse Butter comb with extra long teeth and the fine extra coarse comb. I use these combs to go through the coat after drying and brushing the pom after the bath. This ensures I get a coat that is completely brushed out.
The dogs are bathed about every month, or sooner if they need it. The teeth and nails are done frequently enough to keep the nails short and the teeth plaque free. Usually three times a week for nails and teeth for maintence. If there is slight tartar use the Virbac C.E.T. Enzymatic Toothpaste daily until the tartar is gone.

Virbac Virbac C.E.T. VeggieDent Dental Chews
When clipping the toe nails I find that cat clippers work well. Using a good dremel dog nail clipper will also get the nails shorter and on a dark nail it is easier to see the center before going into the quick. If the nails are not trimmed regularly it will take time to get them back to the desired shortness. It is much easier to not let the nails get to long to begin with but if they do using this method to trim will reduce the length quickly then doing them once a month.
Show dogs are groomed and bathed weekly during the show season. When showing the dogs they are bathed twice, one time before the show and once after the show to remove the products used in the coat. This will help reduces coat breakage. I use a good clarifying shampoo and conditioner to get the products out.
There are many products out there to chose from. What may work for one Pomeranian coat may not work well for another; as coat textures can vary. The material presented here is for informational purposes only and are based on what we have found to work for our Pomeranian's. Research and reading several articles will help you when deciding which products to use on your Pomeranian. Only you know what type of coat your Pomeranian has.
Pomeranian's like being cleaned and groomed. It is a good time to bond with your Pom and check the skin for any abnormalities. Also, when showing the judges like them neat and clean.
What our Pomeranian puppies and adults are eating.
Third party Disclaimer: Darlynns Pomeranian does not offer, endorse or guarantee, and assumes no liability for the accuracy, appropriateness or usefulness of, any products or services of any such third party. The material presented here is for your information only. It is not intended to constitute professional advice and should not be relied upon as such. You should consult your professional advisors before making decisions or taking actions on matters of significance to you and your family.